The Amalgamated Union of Public Employees (AUPE), formed on 26 September 1959, is the largest public sector union in Singapore, representing public employees from Ministries, Statutory Boards and Organs of State
AUPE is committed to safeguarding the well-being of our members and bringing about sustainable improvements to their careers and lives. We currently have more than 22,000 members and is affiliated to the National Trades Union Congress (NTUC) and the Public Service International (PSI).
We represent members from the following agencies
Ministry of Communications and Information (MCI)
Ministry of Culture, Community and Youth (MCCY)
Ministry of Defence (MINDEF)
Ministry of Education (MOE)
Ministry of Finance (MOF)
Ministry of Foreign Affairs (MFA)
Ministry of Health (MOH)
Ministry of Home Affairs (MHA)
Ministry of Law (MINLAW)
Ministry of Manpower (MOM)
Ministry of National Development (MND)
Ministry of Social and Family Development (MSF)
Ministry of Sustainability and The Environment (MSE)
Ministry of Trade and Industry (MTI)
Ministry of Transport (MOT)
Prime Minister's Office (PMO)
Attorney-General's Chambers (AGC)
Auditor-General's Office (AGO)
Industrial Arbitration Court (IAC)
Istana (ISTANA)
Judiciary, Family Justice Courts (FJCOURTS)
Judiciary, State Courts (STATE COURTS)
Judiciary, Supreme Court (SUPCOURT)
Parliament of Singapore (PARL)
Public Service Commission (PSC)
Accounting and Corporate Regulatory Authority (ACRA)
Agency for Science, Technology and Research (A*STAR)
Board of Architects (BOA)
Casino Regulatory Authority of Singapore (CRA)
Central Provident Fund Board (CPFB)
Civil Aviation Authority of Singapore (CAAS)
Civil Service College (CSC)
Competition and Consumer Commission of Singapore (CCCS)
Council for Estate Agencies (CEA)
Economic Development Board (EDB)
Home Team Science and Technology Agency (HTX)
Hotels Licensing Board (HLB)
Info-Communications Media Development Authority (IMDA)
Institute of Technical Education (ITE)
Iseas-Yusof Ishak Institute (ISEAS)
JTC Corporation (JTC)
Land Surveyors Board (LSB)
Majlis Ugama Islam Singapura (MUIS)
Monetary Authority of Singapore (MAS)
Nanyang Polytechnic (NYP)
National Arts Council (NAC)
National Council of Social Service (NCSS)
National Environment Agency (NEA)
National Heritage Board (NHB)
National Parks Board (NParks)
Professional Engineers Board, Singapore (PEB)
Public Transport Council (PTC)
Republic Polytechnic (RP)
Science Centre Board (SCB)
Sentosa Development Corporation (SDC)
Singapore Accountancy Commission (SAC)
Singapore Dental Council (SDC)
Singapore Examinations and Assessment Board (SEAB)
Singapore Labour Foundation (SLF)
Singapore Medical Council (SMC)
Singapore Nursing Board (SNB)
Singapore Pharmacy Council (SPC)
Singapore Polytechnic (SP)
Singapore Tourism Board (STB)
Skillsfuture Singapore (SSG)
Sport Singapore (SportSG)
Temasek Polytechnic (TP)
Tote Board (TOTE BOARD)
Traditional Chinese Medicine Practitioners Board (TCMPB)
Workforce Singapore (WSG)
Yellow Ribbon Singapore (YRSG)
Our Badge
The Lion and City Battlements represent Singapore, the Lion City.
The Lion also symbolises the stoutness of purpose of the AUPE in its quest to better the lot of public employees represented by the City Battlements, which has been internationally accepted by the symbol of public employees.
The highly stylised Oliver Branch signifies AUPE's desire to achieve its objectives by peaceful means.
The Gold of the badge symbolises the glory of the labour movement.
The White Circle encircling the Inner Circle with a Red Background symbolises the brotherhood among men and the purity of purpose in UNITY i.e. to better their standard of living in a peaceful world.
The motto "Mufakat Barkat" means that collective effort is virtuous.
Under the AUPE Group, we also have: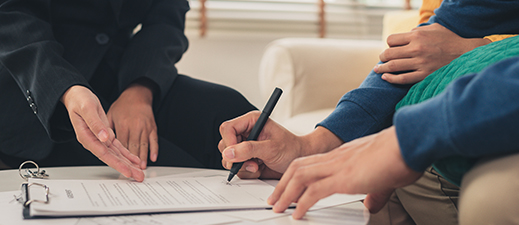 AUPE Credit Cooperative providing savings and
loans services for our members
AUPE Club providing social and sporting activities
for members.